Portable Earthing Equipment Model TP-PEE Series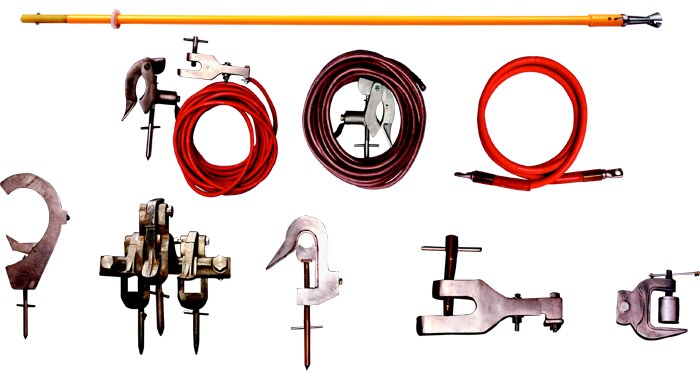 Portable Earthing Equipment are safety equipment designed for discharging & grounding of dead equipment. The system is designed for high fault levels so that even if during shut downs, when technicians are on the job, by mistake if the supply is switched ON, the Portable Earthing Equipment saves human life as well as equipment under maintenance. Special Line End & Earth End Clamps along with operating socket and earthing  lead are used. The Line End Clamps, Earth End Clamps & operating sockets are made of very special aluminum alloys which can withstand high short circuit currents.
Using Portable Earthing Equipment, clamps are applied from remote just by turning the insulated operating pole and the operator never comes in contact with any conductor, so it is highly safe system. Using the common operating pole clamps are applied on each phase one by one.
MAIN INSULATION : 'F' Class to IS, BS & IEC
For Dimensions of Insulated Rods please refer Specifications of Insulated Sticks at the beginning of Electrical Safety
Equipment Section.
FAULT LEVEL RATINGS : 7.5KA, 10.2KA, 21KA, 35KA & 40KA for short duration.
Accessories
Line End Clamps
Operating Sockets for Fixing & Removing Line End Clamps
Earth End Clamps
Extension handles to extend the length
Special Waterproof carrying cases
Special Grounding Cables Available in Following Types
Flexible Copper in Transparent and Bright Orange Sheath
Flexible Aluminum in Transparent and Bright Orange Sheath
(The grounding cables are Pressure lugged at either ends)
Line End Clamps for wide sizes of Conductors and Bus Bars
Electrical Safety & Testing
Call us
+91-124-4014527