PD & Hot Spots Detection & Localization System for Power Transformers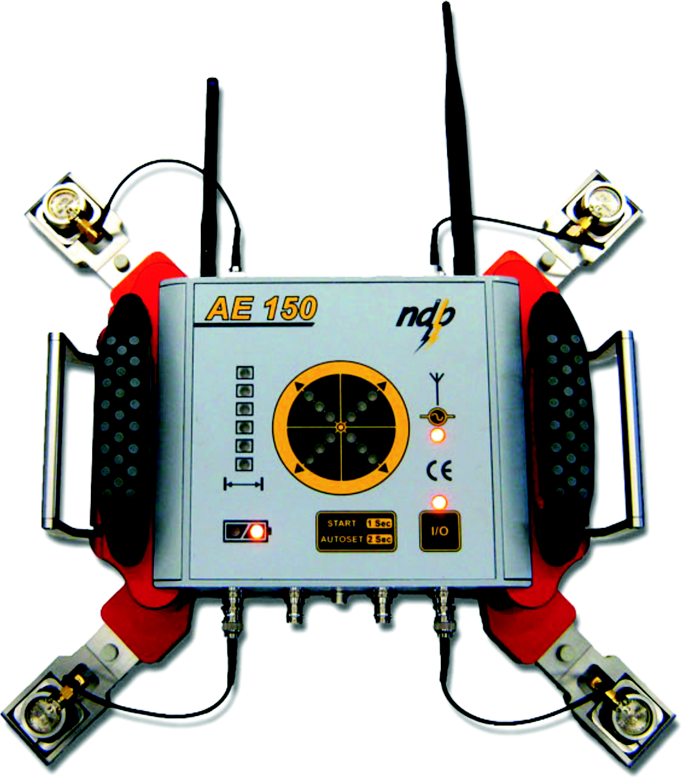 The AE-150™ is designed to detect and localize Partial Discharge activity by correlating acoustic and electric sensors' data. The AE-150™ has many acquisition modes, each used for detecting and locating Partial Discharge activity in a transformer. The AE-150™ unit is mounted on the transformer tank using its powerful magnets that also hold four acoustic sensors. Acquired data is sent to Mirador-Tx software where all advanced positioning functions are implemented. This cutting edge software allows easy data interpretation, reporting and monitoring.
Features
Easy to install and use
Portable, battery-operated, wireless data transfer, weatherproof
Mirador-Tx software allows automatic configuration and 3D positioning
Simultaneous processing of AE and PD signals
NEW: Monitoring Feature!
Expert Partial Discharge Detector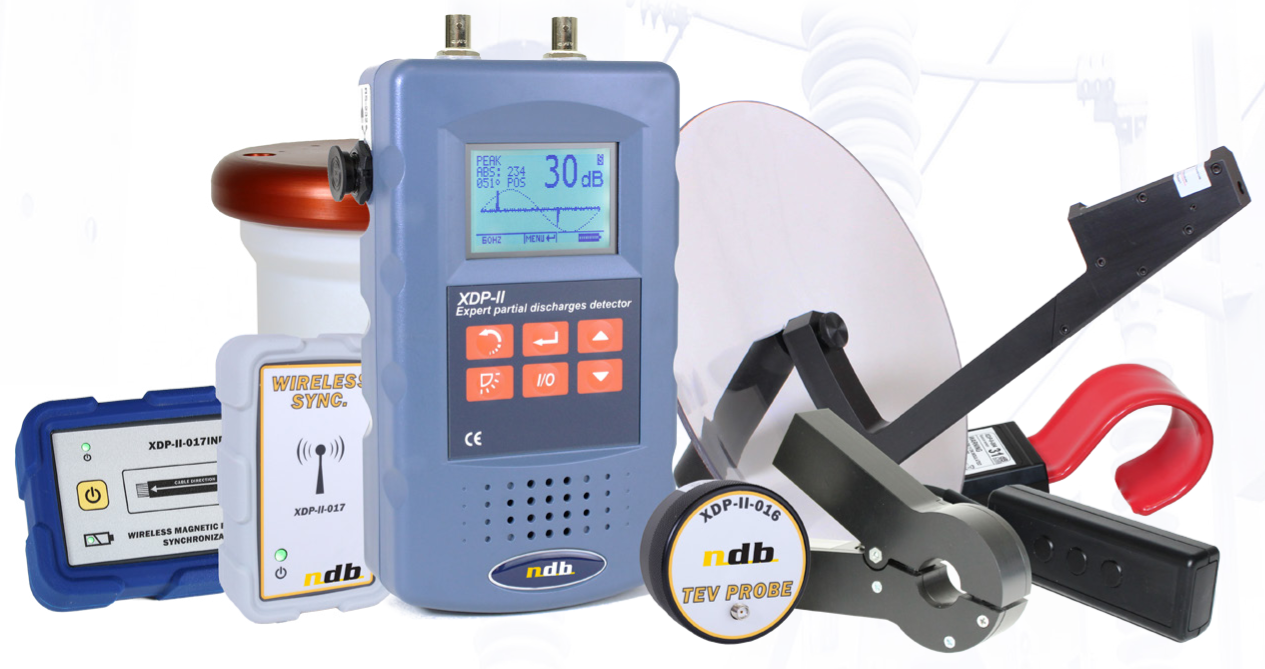 The well-established XDP-II™ is a battery-operated portable device allowing Partial Discharge detection and analysis. The data is saved in its internal memory for local or further analysis on the PC-based XDP-SOFT™. Paired with the proper accessories, the XDP-II™ becomes a powerful solution for many applications such as Cable Joints and Elbows, Switchgear, Offline, Acoustic, TEV, Rotating machines, Transformer, etc.
Features
Easy to use, Portable and Battery operated
pC and dB value display
Several display modes for on-site real time analysis and diagnostic
Saves the waveform and edge of PD in its memory with the date and time
Up to 7.5 hrs autonomy
Ultra-versatile instrument
Network phase synchronization
Online Direct Contact PD Test System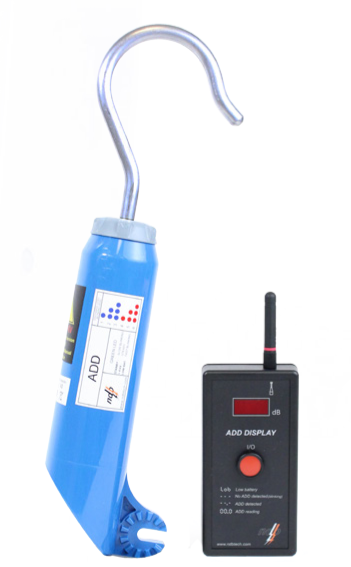 The ADD™ allows online partial discharge detection on medium voltage accessories such as: Arresters, dry type transformers , bushings, insulators, etc. The partial discharge level is displayed by visual and audible indicators. The remote display module also allows to read the levels from a great distance for maximal safety.
Features
Three levels default indication
Two zones (scale of default)
Visual and audible indication
All-Check self-test for verifying proper operation prior to use
Built-in universal hotstick adaptor
Powered by 9V alkaline battery
Carrying case included
Low battery indication
Lightweight design
Special design for HV live contact
Distribution Transformer Tester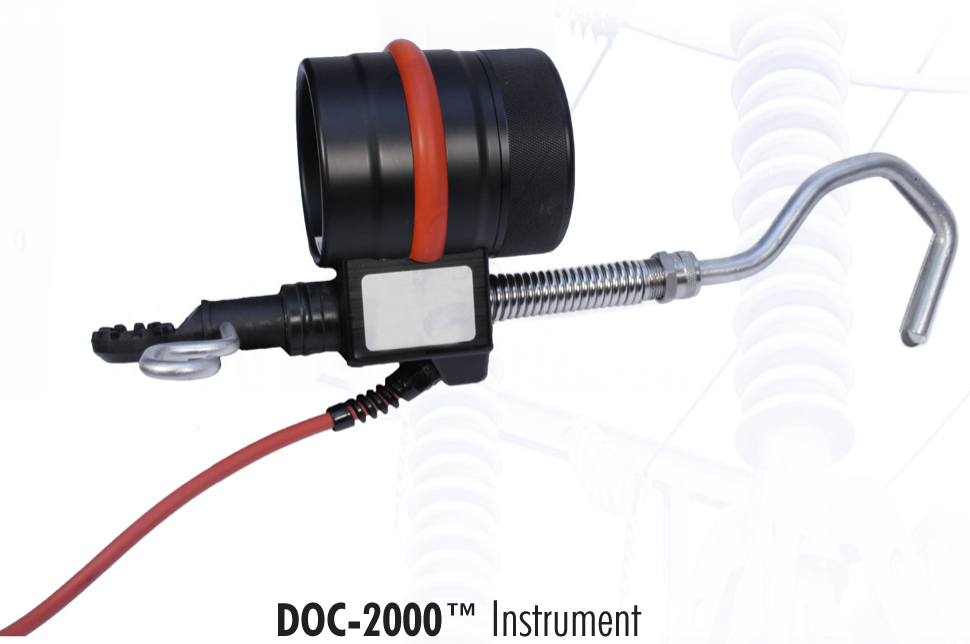 The DOC-2000™ is intended for de-energised distribution transformer testing. It can determine the presence of short circuits or an open circuit in the distribution transformer primary winding and also short circuits on the secondary winding. The DOC-2000™ is designed to be operated from an arial device or from the ground at the end of a hot stick without disconnecting the transformer's secondary windings.
Features
Transformers up to 167 KVA single or three phase (Pole mount or Pad mount)
Measurement by contact on the transformer primary bushing and neutral/ground
Used on de-energized transformers
Detects primary transformer short-circuit, open circuit, & secondary short circuits
Visual and audible warning.
Automatic self-test & Auto shut-off
Low battery indicator
Operating temperature range -25°C to 55°C
Partial Discharge Detector with Wireless Reading for Overhead Applications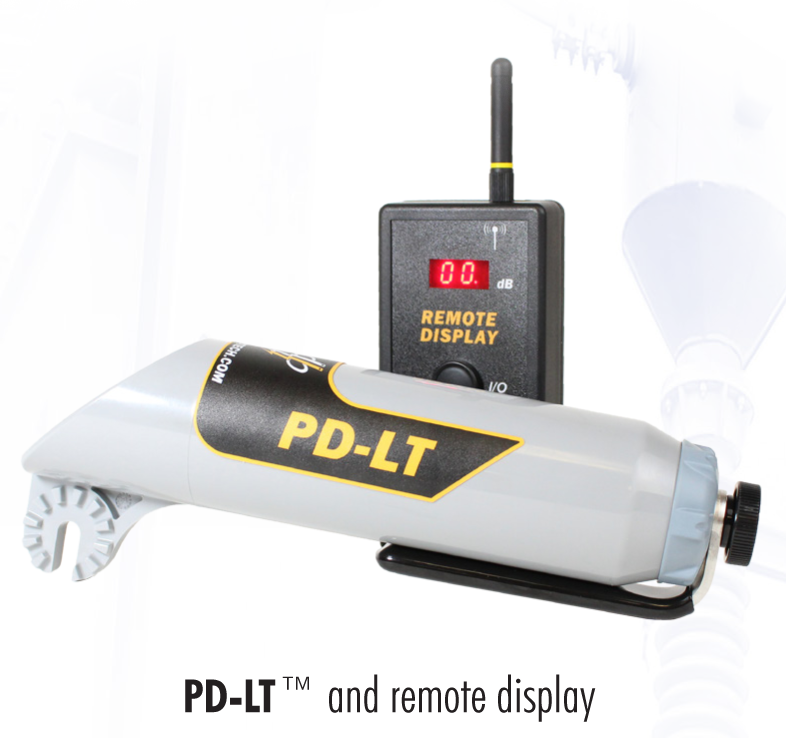 The PD-LT™ allows online partial discharge detection on cable accessories such as cable head, lightning arrestors, insulators, bushings, for safety and maintenance purposes. The partial discharge level is displayed on the remote display.
Features
Easy and safe to use with a hotstick
Compact, lightweight and battery powered for maximum flexibility
High sensitivity capacitive sensors with wireless measurement readings
Increase safety
Voice Cable Identification System

The VCI-3™ is a cable identification and phasing system used during installation or maintenance works on de-energized three phase systems.
Features
Unique balanced injection system that eliminates signal bleeding on other wires
Three different frequencies to identify each phase
Easy to install and operate
Extended range: up to 10 km (6 miles) of working distance
Tone transmission for more than 8 hours
Lightweight and compact
Optional magnetic sensing transducer
Phase detection by transmitter tone presence or absence
Digital filtering of network harmonics
Unique dual grounded method
Live Cable Identification System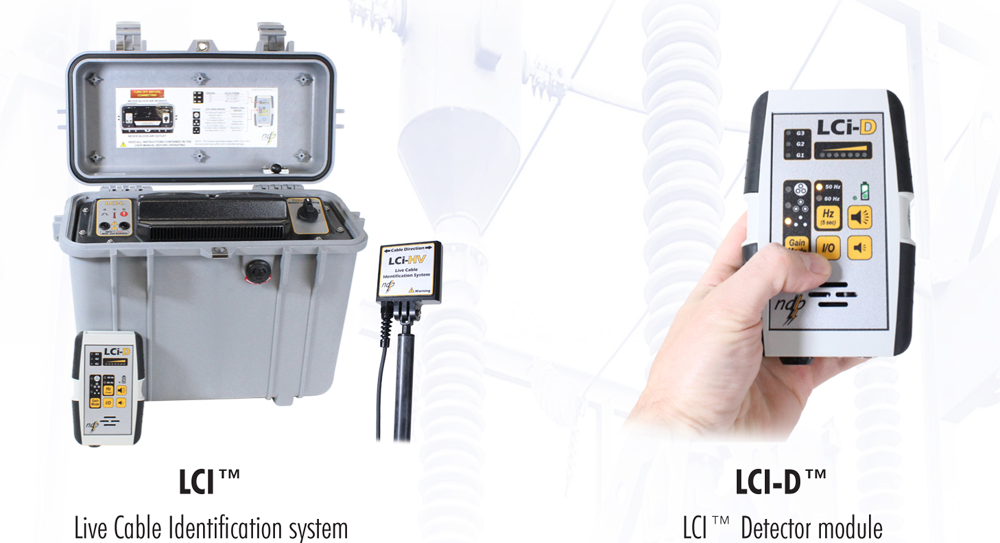 The LCI™ is intended for energised cable identification on secondary and primary circuits. It features a dual frequency technique that eliminates false identifications. The LCI™ is designed to be easy to use, safe for the user and cost-effective.
Features
Dual frequency efficient technique
Easy to install and operate
The safest technique on the market
Transmission on live cables
Detection by digital processing
High-resolution detection frequencies
Single or three phase applications
Bidirectional MV Load Logger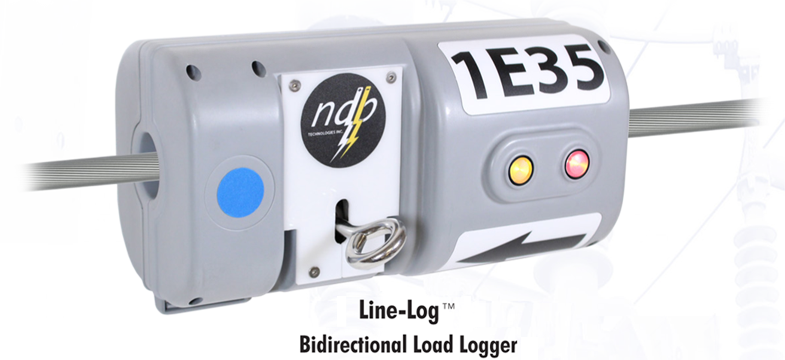 The Line-Log™ is a distribution line monitoring system designed for high accuracy bi-directional current measurements. This system enables qualification and improvements with load profiling and balancing of your distribution system. This unique and compact instrument offers large internal memory with several months of recording, Wireless communication, Hybrid power harvesting for continuous and autonomous operation and the design is Partial Discharge Free! The Line-Log™ is the perfect tool for accurate tracking of load profiles on multiple circuits.
Features
Easy installation with a hotstick
Large internal memory
Power Harvest technology
Energy backup for low line current situations
Wireless data transfer
Partial Discharge Free design
Measurements down to 1 Amp
Designed to meet with IEEE-495:2007
Partial Discharge Alarm System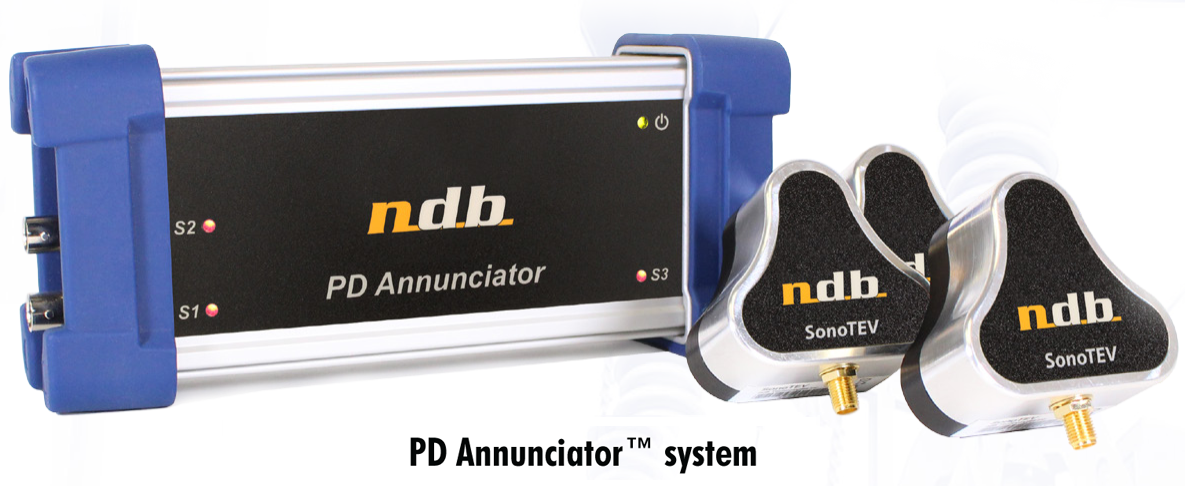 Remotely detect partial discharge activity inside any energised cabinet using ndb Technologies PD Annunciator™ system. Probes are installed on the unit under test and will give instant status thus preventing long term damage to your switchgear equipment. Its unique design allows simultaneous TEV and Acoustic detection for optimized results. The flexible sensor's unique design allows for combined directional airborne acoustic and TEV detection.
Features
Simultaneous TEV and Acoustic detection
Easy to install, magnetically held on any metallic cabinet
Airborne or contact acoustic detection
Intuitive software
Open collector and RS485 interface
Optional cellular module
Online Partial Discharge Scanner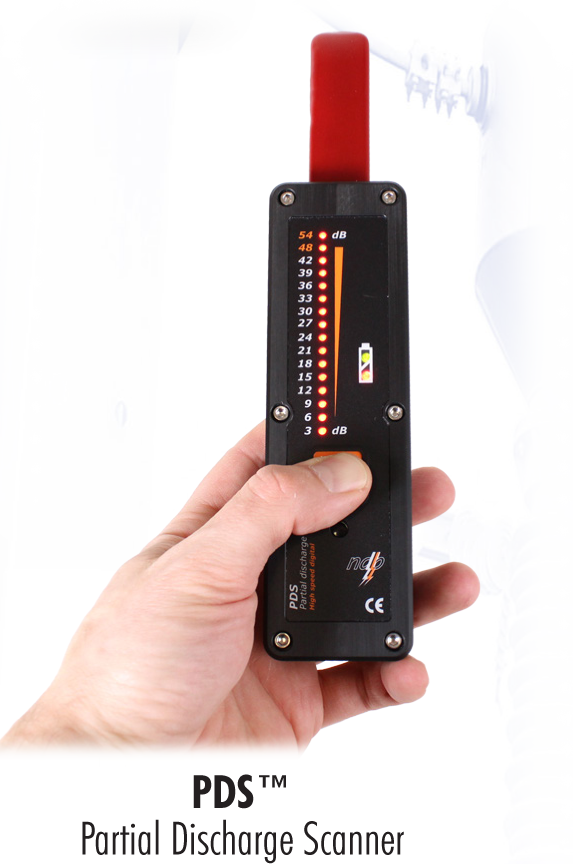 The PDS™ allows online partial discharge detection on underground cable accessories and equipment for safety and maintenance purposes. This compact and lightweight instrument is battery operated and it has a an autonomy of 30 hours. The Partial Discharge intensity level is displayed on the instrument with the bargraph.
Features
Easy to use
Compact, lightweight and battery powered for maximum flexibility
High sensitivity inductive and capacitive sensors
Rugged Delrin® made casing
Up to 30 hours autonomy
Electrical Safety & Testing
Call us
+91-124-4014527